Welcome To The World Of The Ultimate Vehicle
With a 0 to 60 MPH sprint of 4.5 seconds, ultimate luxury, and 536 horsepower, the 2023 BMW i7 is the height of elegance and performance. The 2023 BMW i7 has a driving range between 296 and 318 miles, guaranteeing that even lengthy trips can be enjoyed in elegance. With all that the i7 doesn't sacrifice comfort or drive range either.
Step into a world of luxury with the i7; its sophisticated design and cutting-edge technology combine to make every journey one of absolute comfort and style. Pamper yourself in an executive lounge - without even having to leave your car.
Your world, your terms
Enormous technology follows great power. With the i7, you can not only select your drive but also set the tone for the rest of your day thanks to its amazing operating system and ground-breaking customisation.
Make your entrance
You will enter a luxurious area. You are welcomed in elegance with a dynamic light carpet and optional Automatic Doors. BMW ID makes sure that all of your preferred settings and individual recommendations are always available, allowing you to feel comfortable while driving.
Radiant in the front
Recently released Crystal Headlights are magnificently made from the most expensive crystal glass. Everywhere you go, the strong contemporary style of the brand-new lighted kidney grille makes a striking statement.
Sleek in the back
A powerful rear design with short rear taillights and a rear diffuser makes an impression every time you exit.
Aerodynamic aesthetic
This electric futuristic sedan has a simple, contemporary style. Up to 21" aerodynamic wheels, flush window and door handles, and other innovations may be found on the i7.
2023 BMW i7 Charging
Charging
Charge your BMW faster with the advanced Wallbox Connect! This innovative system boosts charging times by a whopping 70% and offers personalization options for maximum convenience. With its convenient onboard high-current charger, customizable power output settings, remote access capabilities, and useful real-time monitoring functions - you can go from 0 to 100 in 12 hours flat.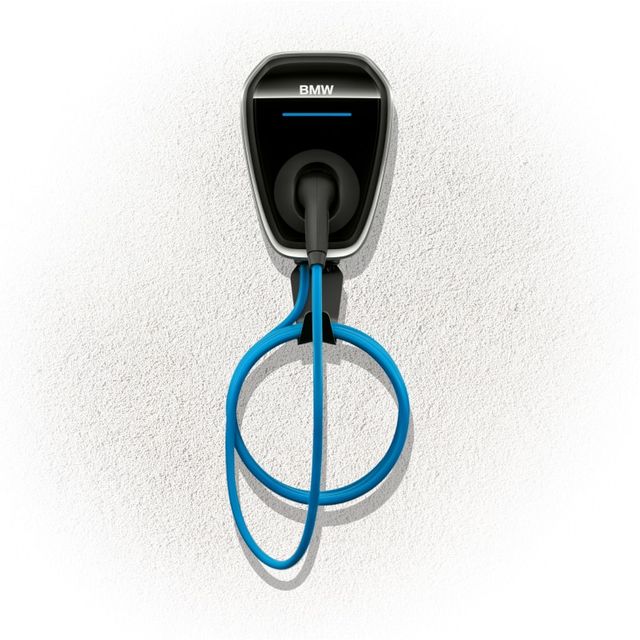 Optimum Home Charging
Get your electric car energized and rolling at lightning speed with BMW Wallbox! With its Level 2 charger, you can easily charge up to 100% in a matter of 12 hours for maximum comfort. Not only that, but installing it is as easy as pie - perfect both indoors or out no matter the weather conditions around you.
Range, Charging, and Battery Life
With the BMW i7, drivers can travel up to 300 miles on a single charge. Using DC fast charging stations, just 10 minutes of connection time adds up to 90 miles of driving range - and for three years new car owners get complimentary 30-minute sessions at Electrify America stations.
2023 BMW i7 Performance
The i7 is a cutting-edge electric car created to provide thrilling power and rapid torque, together with thrilling adventures and exceptional performance.
536 hpThe i7 is a cutting-edge electric car created to provide thrilling power and rapid torque, together with thrilling adventures and exceptional performance.
Maximum Horsepower
Experience the Next Level Performance Aerodynamics
The 2023 BMW i7 sleek, aerodynamic beauty is equipped with performance-enhancing features that create a power boost suitable for any open highway. With AC Fast Charging mode and Brake Energy Regeneration capabilities, you can reach higher speeds in no time - all while conserving energy!
Air Curtains and Air Breather Systems
Air curtains and air breather systems provide a practical solution to help maintain temperature control while allowing easy passage into another space. By creating an invisible wall of powerful airflow, they form an effective barrier between inside and outside air that can make it easier for you to manage the environment in your building.
EV Motor, Power, and Performance
The i7 proudly features the same advanced electric powertrain as its EV SUV sibling, the iX. Boasting two motors to each axle and 536 horsepower overall, this powerful machine allows for seamless all-wheel drive with impressive acceleration capabilities—all in a grand package perfect for larger drives.
2023 BMW i7 Specifications
2023 BMW i7 xDrive60
PERFORMANCE (C/D EST)
Feel the thrill of a 4.1 second 0-60 mph sprint and 9.0 seconds to hit 100mph in this incredible ride that can accelerate from 0–100 faster than it takes most people to brush their teeth! It covers 1/4 mile in less than 13 seconds at its peak top speed between 130 and 149 miles per hour, despite having an impressive curb weight estimated around 5950 pounds.
EPA FUEL ECONOMY
With unparalleled efficiency and impressive range, this vehicle can take you as far as 318 miles on a single tank of gas! Whether in bustling cities or winding highways, the MPGe averages from 83-89/81-87/85–92 will keep your journey efficient.
Vehicle Type:front- and rear-motor, all-wheel-drive, 5-passenger, 4-door sedan
POWERTRAIN
Front Motor: current-excited synchronous AC, 255 hp, 269 lb-ft
Rear Motor: current-excited synchronous AC, 308 hp, 280 lb-ft
Combined Power: 536 hp
Combined Torque: 549 lb-ft
Battery Pack: liquid-cooled lithium-ion, 101.7 kWh
Onboard Charger: 11.0 kW
Peak DC Fast-Charge Rate: 195 kW
Transmissions, F/R: direct-drive
DIMENSIONS
The vehicle boasts a generous wheelbase of 126.6 inches, giving it an impressive length and width of 212.2 and 76.8 inches respectively with a comfortable height on the outside at 60.8 in – perfect for navigating winding roads comfortably while still having space to store up to 11 cubic feet worth of cargo or luggage inside its spacious cabin that can fit up to 112 cubic feet total passengers!
2023 BMW i7 Safety And Technology
The 2023 BMW i7 comes with a variety of advanced safety and security features. These features include:
Automated Emergency Braking (AEB) with pedestrian detection: This system uses cameras and radar to detect obstacles in the path of the vehicle, and can initiate emergency braking to avoid a collision.
Lane Departure Warning (LDW): This system monitors the lane markings and can alert the driver if the vehicle begins to drift. Blind Spot Detection (BSD): This system
Blind Spot Detection (BSD): This system uses sensors to detect objects in the car's blind spots, and can alert the driver if there is something in the way.
Adaptive Cruise Control (ACC): This system uses sensors to maintain a safe distance from the vehicle in front of it, and can adjust speed accordingly.
Active Park Assist: This system helps the driver to park the vehicle in tight spaces with ease.
Park Distance Control (PDC): This system uses sensors to alert the driver when they are too close to an object or another vehicle.
Night Vision: This system uses infrared cameras to help the driver see in the dark.
Head-Up Display (HUD): This system projects important information directly onto the windshield, allowing the driver to keep their eyes on the road.
Drive The 2023 BMW i7 In Barrington, Illinois At BMW Of Barrington
Looking for the most cutting-edge and effective driving experience in an electric vehicle? Check out the 2023 BMW i7, the brand's most cutting-edge EV.
You may get help buying your new BMW and receive expert BMW servicing at BMW of Barrington in Illinois, the top BMW dealership.
We'll walk you through the 2023 BMW i7 trim selections, financing alternatives, and more.
Visit our website or get in touch with us right now to learn more about owning a 2023 BMW i7 and to browse our used cars and other new BMW models in Barrington.
2023 BMW i7 Q&A
What kind of cutting-edge technology does the BMW i7 include?

The BMW i7 is the first-ever all-electric 7 Series, and it boasts a range of advanced technological features. Notable features include the 31" BMW Theater Screen, which offers 5G connection and up to 8K resolution, Amazon Fire TV built-in, a Bowers & Wilkins Surround Sound System, and 5.5" touchscreen control panels integrated into the rear doors. The i7 also features Automatic Doors that open and close automatically, as well as the most advanced iDrive Operating System with cloud-based navigation that maps out the most efficient route based on electric range and charging stations.
How quickly can the battery on the i7 be charged?

At home, the BMW Wallbox – a Level 2 charger that is installed in your garage – can charge the battery from 0–100% in under 10 hours. On the road, you can access the largest open DC Fast Charging network in the US for a tailored charging program.
What is the battery warranty for the BMW i7?

The BMW i7 electric vehicle has an 8-year/100,000-mile battery warranty, along with premium maintenance services provided by a nationwide dealer network.
What is the electric range of the i7 xDrive60 Sedan?

The BMW i7 xDrive60 boasts an estimated electric range of up to 318 miles. What is the battery warranty for the BMW i7? The BMW i7 electric vehicle has an 8-year/100,000-mile battery warranty, along with premium maintenance services provided by a nationwide dealer network.
What is the cargo capacity for the i7?

The 2023 BMW i7 is spacious and offers 17.6 cubic feet of cargo space.
Which Colors are available for the i7 xDrive60?

The i7 xDrive60 Sedan offers an extensive selection of colors, ranging from classic non-metallic to highly reflective Metallics and exclusive Frozen paints. With 14 colors to choose from, you can select the one that best highlights the contours of your car. Additionally, you can explore the virtually limitless selection of BMW Individual colors.
What impact does wheel and tire size have on the range of my BMW i7?

Wheel design and size, in addition to the type and width of the tires, are all key factors that influence the electric range of your BMW i7. By utilizing an aerodynamic wheel design in combination with a low rolling resistance tire type, you can improve your electric range. To further explore how wheel and tire sizes affect range, use the Build Your Own tool or contact your local BMW Center.
Where can I buy the 2023 BMW i7 in Barrington, Illinois?

You can get the new 2023 BMW i7 at BMW Barrington, the leading BMW in this area. Visit our website or contact us today to explore the possibilities of owning a 2023 BMW i7 and go through our other new BMW models and used vehicles in Barrington.